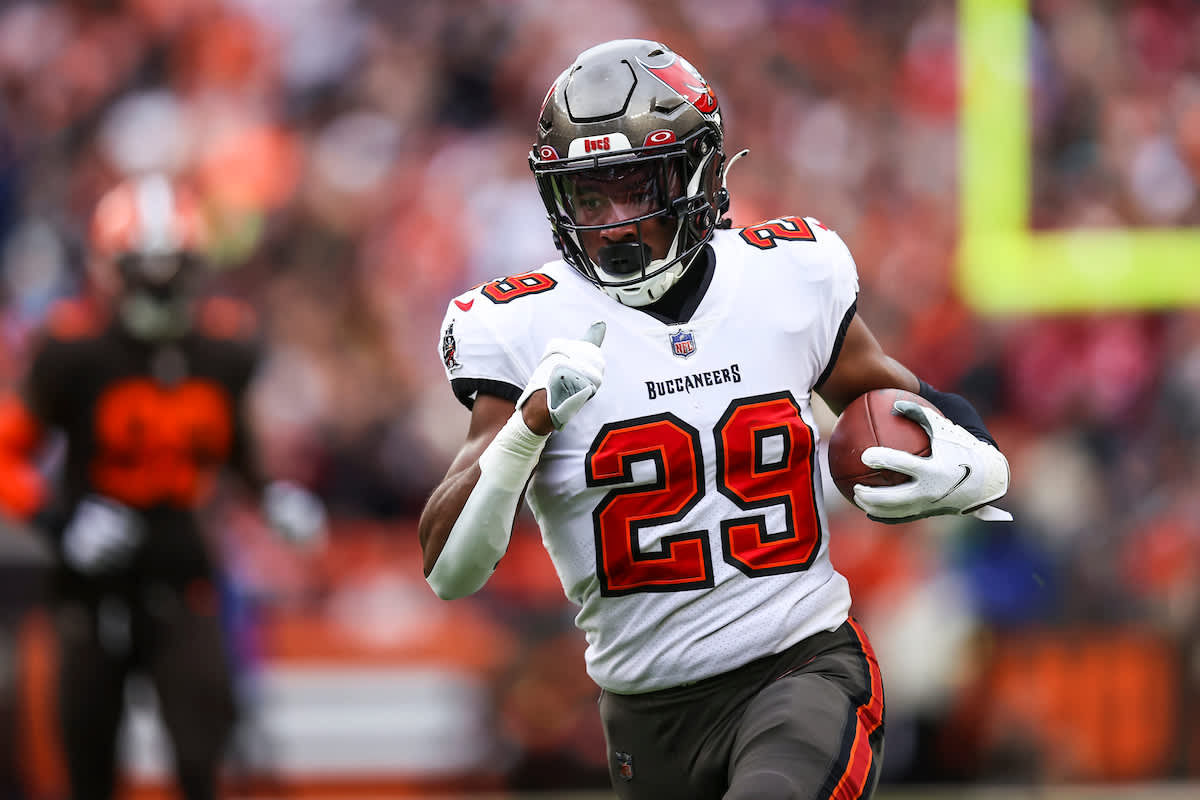 In the exciting world of fantasy football, finding those hidden gems can make all the difference for your team. These players, known as sleepers, often go unnoticed but have the potential to shine and significantly boost your fantasy squad. This article explores some intriguing sleeper candidates who could exceed expectations and provide excellent value for the upcoming season. Let's dive into these hidden treasures and uncover the fantasy gold they can bring to your team.
1. Jordan Love – Green Bay Packers (QB)
Jordan Love, the quarterback for the Green Bay Packers, has the potential to be a hidden gem in the 2023 fantasy football season. Despite initial skepticism surrounding his draft position, Love has the backing of the Packers organization, as they have constructed the team's offense around him. The absence of any significant quarterback competition further solidifies their commitment to Love as their franchise QB. With the support of a well-built offense and his impressive skill set, Love can thrive and surprise fantasy managers with his performance. Keep an eye on Love; he could be a valuable asset in fantasy football this season.
2. Desmond Ridder – Atlanta Falcons (QB)
Desmond Ridder's initial performance as the Atlanta Falcons starting quarterback in 2022 may have yet to meet expectations. However, it's essential to consider the context in which he operated—an offense heavily focused on the running game. Despite these challenges, Ridder showed glimpses of his talent and has the potential to develop into a fantasy football star in the 2023 season. While his long-term prospects as an NFL starter may be uncertain, Ridder possesses unique skills that can translate into fantasy success. In 1QB dynasty leagues, he may not currently be highly valued, but that presents an opportunity for savvy fantasy managers. As with any player, there are risks and uncertainties involved. However, in a league where starting quarterbacks are in high demand, Ridder presents an intriguing opportunity. By taking a calculated risk and investing in his potential, fantasy managers could find themselves with a high-value prospect who exceeds expectations and becomes a fantasy football star in the 2023 season.
3. Jahan Dotson- Washington Commanders (WR)
Jahan Dotson, a wide receiver for the Commanders, demonstrated glimpses of fantasy potential in his rookie season. With seven touchdowns and several strong performances scoring over 14 points, Dotson showcased his ability to make an impact on the field. Despite uncertainties surrounding the team's quarterback situation, Dotson is slated to begin the season as the Commanders' second option at wide receiver, complementing Terry McLaurin. In an optimistic scenario, Dotson can potentially provide value as a No. 3 wide receiver or flex option in his second year. Fantasy managers should keep an eye on Dotson's progress as he aims to build on his promising rookie campaign.
4. Rasheed Shahid – New Orleans Saints (WR)
Shaheed, an undrafted free agent, stands out among the rest on this list due to his promising prospects in his second year. Despite being undrafted, he secured a consistent role within the Saints' offense and showcased an impressive yards-per-route rate that rivals some of the league's top receivers. Shaheed became increasingly important in the Saints' offensive scheme as the season progressed. In the later half of last season, he averaged an impressive 9.8 fantasy points per game in PPR formats.
If Thomas continues to face challenges, Shaheed has the opportunity to replicate and improve upon his strong performance towards the end of last season. With Derek Carr leading a higher-volume passing attack for the Saints in 2023, Shaheed will have increased opportunities to shine as a prime beneficiary of the team's offensive strategy. Fantasy managers should closely monitor Shaheed's development, as he can potentially deliver significant fantasy value in the upcoming season.
5. Jordan Addison – Minnesota Vikings (WR)
Already a candidate to win OROY, Jordan Addison has a golden opportunity to step up as the WR2 for the Minnesota Vikings following Adam Thielen's departure. With the team's pass-heavy approach and Thielen's departure, Addison is primed for a significant role alongside Justin Jefferson. Despite a slight dip in targets for Thielen, Addison can contribute as a solid WR3 option. The Vikings' frequent use of three wide receiver sets means Addison and K.J. Osborn should both see playing time. Addison's strong separation skills and deep-ball abilities make him an intriguing fantasy prospect, and he has the potential to deliver valuable production as a WR3 or even higher in fantasy lineups.
6. Rachaad White- Tampa Bay Buccaneers (RB)
Rachaad White had a great rookie season in 2022. He finished 35th overall in RB rankings in PPR league formats. He showed promise and took over the RB1 job after Leonard Fournette's departure. With Fournette gone and limited competition in the backfield, White is expected to have an expanded role as the starter in Week 1. The Buccaneers' lack of additions at the running back position in the offseason further solidifies White's position as the primary option. He has expressed confidence in his increased involvement in the passing game, indicating the potential for a second-season breakout. Despite any offensive struggles the team may face, his participation in the game's rushing and receiving aspects makes him a valuable asset for fantasy managers in the 2023 season.
7. Kendre Miller- New Orleans Saints (RB)
Kendre Miller, a talented rookie from TCU, is poised to be a breakout star in the 2023 fantasy football season. With an impressive college career and the potential for an expanded role in the New Orleans Saints backfield, Miller offers exciting potential for fantasy managers. The possible absence of Alvin Kamara opens up an opportunity for Miller to make a significant impact alongside Jamaal Williams. With his dynamic abilities and late-round value, Miller is a sleeper pick in fantasy drafts. Keep a close eye on him, as he has the potential to exceed expectations and bring valuable upside to fantasy teams.
8. James Cook- Buffalo Bills (RB)
James Cook has the potential to be a standout player if given the chance. Despite not being the lead back in his rookie season, Cook showed promise with his impressive yards per carry average and three touchdowns in his final games. Cook's success will depend on his involvement in the passing game and his ability to prove himself as a talented NFL running back. While his goal-line scoring opportunities may be limited by quarterback Josh Allen, Cook's value as a potential RB2 makes him a good choice for fantasy managers. With the right opportunity, Cook could become a reliable weekly starter in the 2023 season.
9. Mac Jones- New England Patriots (QB)
Mac Jones showcased his potential as a promising fantasy football player during his strong rookie season in 2021, finishing as a runner-up to win Offensive Rooke of the Year. While his sophomore campaign in 2022 faced some challenges with the Patriots' offensive struggles and reported tension with coach Bill Belichick, there is still optimism for Jones heading into the 2023 season. Although he may not possess the elite rushing ability, Jones has proven a reliable option as a QB2 in dynasty leagues. Despite finishing 23rd in terms of fantasy points for QBs points per game, he has the opportunity to improve and provide solid production for fantasy managers. At the same time, his dynasty value has slightly decreased. With further development and the right supporting cast, Jones can exceed expectations and establish himself as a valuable fantasy asset in the 2023 season.
10. Sam LaPorta- Detroit Lions (TE)
At number 10, we have Sam LaPorta, a rookie tight end for the Detroit Lions. LaPorta can become a fantasy football star in the 2023 season. With the opportunity to immediately impact the Lions' offense, LaPorta could step into a prominent role from Day 1. With Jameson Williams suspended for the first six games and a limited depth chart at the wide receiver position, LaPorta has a clear path to become the third offensive option for the team and, eventually, the fourth option once Williams returns. Given his potential role and current market price, LaPorta could be a steal for fantasy managers looking to bolster their tight-end position. Keep an eye on LaPorta, as he has the potential to exceed expectations and become a fantasy football star in the upcoming season.