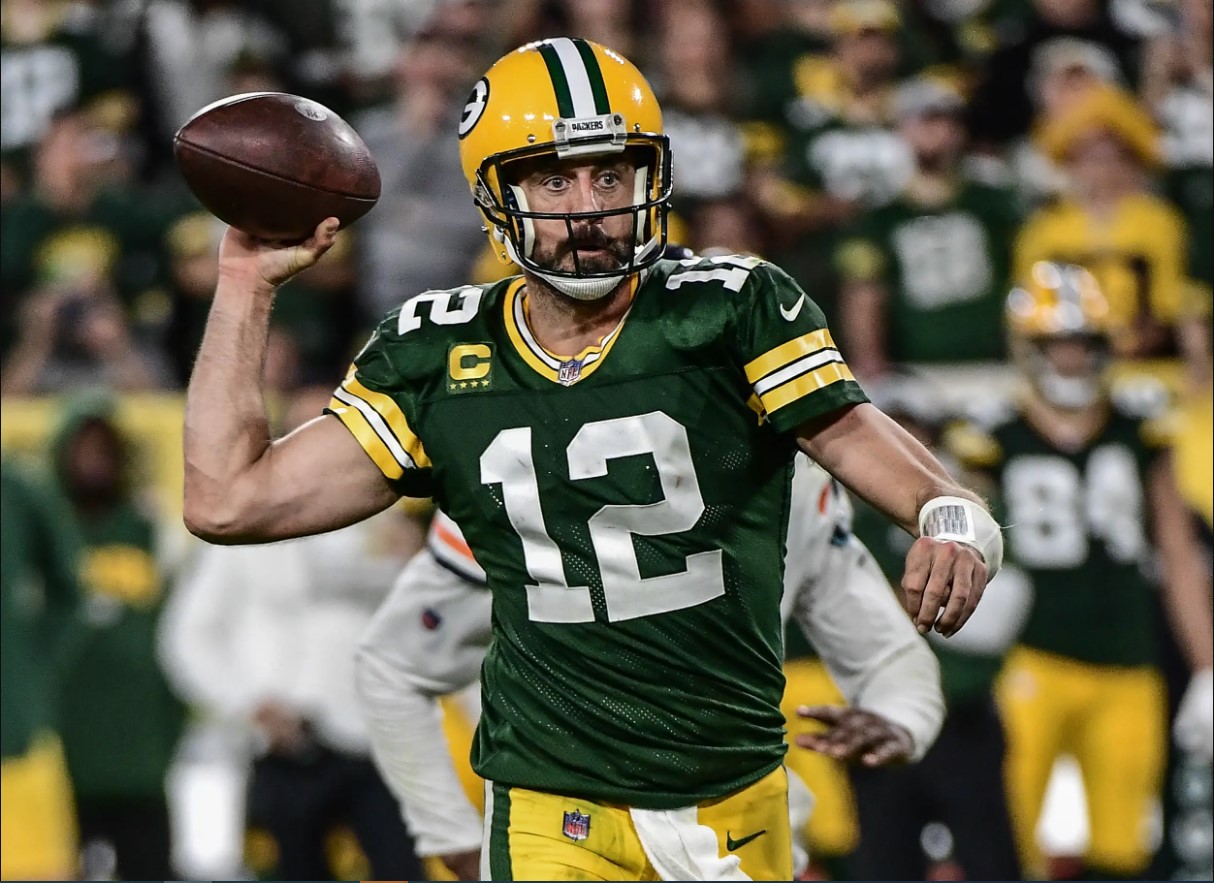 There is no denying that Aaron Rodgers is one of the greatest quarterbacks of all time. However, recently it seemed that he was struggling quite a bit, and therefore we have heard about the rumors that he might be traded to another team. The Packers organization and Rodgers aren't keen on taking their relationship into the future. He recently stated on the "The Pat McAfee Show" that he will embark on a four-day/four-night "darkness retreat" soon after the Super Bowl on Sunday.
Once the retreat is over, Rodgers will have his mind made up on what he will do next concerning playing football. All of this came after a down 2023 season, possibly the worst of Rodgers' career, where he only managed to get a 91 QB rating, which is the lowest ever since he started playing regularly back in 2008. Many analysts perceive the regression because of the lack of game-time experience with new wide receivers.
Rodgers Fantasy Value
In terms of fantasy football status, these numbers are not far off. Rodgers scored 239 fantasy points in the 2022 season, averaging about 14 points per game. For comparison, Patrick Mahomes, who led the QBs in fantasy points, scored 414 points. Rodgers scored 388 points just a couple of years ago when he was awarded NFL MVP. In 2020 Rodgers led the league in total TDs and lowest TD to Interception ratio. In terms of fantasy, he was placed at the number position and only 18 points behind Josh Allen, who scored 406 points.
Even if you go beyond the 2020 season, you will find Rodgers ranked among the best and most fantasy-scoring points in many leagues. Rodgers, of course, has always been more of a traditional quarterback than players like Patrick Mahomes, Josh Allen, and Lamar Jackson. However, Rodgers still manages to compete with the top tier of QBs because of his cannon arm and presence, carrying the Packers' rich legacy. That's why it seems odd even to picture Rodgers in any other uniform; however, it looks imminent.
Rodgers' Potential Future Destination and Fantasy Impact On Future Teammates
It's unclear now; however, we have jotted down five potential destination spots for Rodgers, who needs a good quarterback.
Buccaneers
It would be a tough choice for the Buccaneers organization to move from one aging QB to the next, but from Rodgers' perspective, the Buccaneers would be the best option currently available. The Bucs now have one of the best pass protections, a great rushing attack, and very good, high-quality receivers. Imagine Russell Gage, Chris Godwin, and Mike Evans taking advantage of Rodgers' strong arm. Rising tight-end Cade Otton will also be another intriguing option for fantasy owners. Buccaneers will remain a threat in the NFC South. It also helps that the division is on pace to be one of the worst in the league again. The division is projected to have four brand new signal callers under center in 2023. But the right head coach/QB combo will run away with the South.
Saints
The Saints are deeply entrenched in pursuing Raiders quarterback Derek Carr. According to the latest report, the Raiders granted Carr permission to speak with the Saints. Carr, the Saints' top executives, and the coaching met Wednesday night for dinner in New Orleans. Currently, no trade is imminent, but things can change immediately. However, if Carr is released before the February 15 deadline that locks in the guaranteed money of his contract, more suitors will be interested. If New Orleans misses out on signing Carr, expect them to shift their attention toward pursuing a quarterback like Rodgers. Like the Bucs, the Saints can be an excellent spot for Rodgers.
The Saints certainly have much more offensive weapons than the current Packers' roster, including Chris Olave, who can become a legit fantasy wide receiver in years to come. Other players who can benefit are Juwan Johnson, Rashid Shaheed, and Alvin Kamara. Although Sean Peyton is not going to coach, the overall offensive scheme for Drew Brees will be good enough to make Rodgers comfortable right from his very first year.
Raiders
There is a rumor that Rodgers will be joining the Raiders, which would be something. NFL rumors are incredibly inconsistent. A couple of years ago, Derek Carr was considered the most stabilized option in the Raiders' offense. He was one of the reasons that Davante Adams decided to join the Raiders last year.
Now it looks like Carr is going to be with another team in 2023 Davante Adams will need a good and quality QB, and of course, in the current situation, there is no one better to fill that role than Aaron Rodgers. Apart from Adams, Mack Hollins is a good wide receiver. Hunter Renfrow is an excellent slot receiver who can run great routes, and of course, Raiders' current tight end Darren Waller will benefit greatly. If Rodgers joins the Raiders, both Adams and Waller will become one of the hottest fantasy options for 2023 fantasy drafts.
Titans
Remember when Derrick Henry became the back of the Titans, and the entire team relied heavily on him and hoped their defense would perform great? Well, it turns out that plan didn't change much. From a fantasy point of view, Henry remains the only good thing in the entire Titans' team, and although Ryan Tannehill is good, he is not great, and that's where Rodgers can give them the boost.
Titans have a weak receiving core, with Treylon Burks, Robert Woods, Chris Conley, Mason Kinsey, and Racey McMath among the names of their whole receiving core and possibly new stars in the upcoming fantasy season. Having Rodgers on the team will hamper the uplifting Jaguars and Colts DSTs, both of which are in rebuilding mode, and it will be great to watch the fantasy matchups within the building division and around the league.
Jets
No other team needs a good, stable, and long-term QB than the NY Jets. Now even the most flexible analysts say that the QB problem at Jets is the biggest issue. Granted, having Rodgers with the team is not a long-term solution, but unless Mahomes, Herbert, Burrow, or any other good QB wants to join them, the Jets don't have any options.
Rodgers can also benefit from being in the Jets. Corey Davis, Elijah Moore, and Garret Wilson are good and can be considered legitimate fantasy threats. Having Rodgers in New York will change the dynamics of the entire division. The other defenses in the division, including the Bills, Dolphins, and Patriots, will have to do their homework before every game. The fantasy points won't be easy to come to Rodgers, but his impact on his team and overall division will have great value.
To sum up, Rodgers might be slightly older than the normal of the current starting QBs, but it is a known fact that he can immediately boost any team that needs a good quarterback. The trade of Aaron Rodgers from the Packers to any team will significantly uplift that team's offense. The fantasy rankings of the wide receivers will also get a considerable boost, and so does the overall offense, including the rushing attack. It is not yet sure where Rodgers will opt to go, but having a look at current fantasy profiles of the starting NFL QBs, Rodgers will be a viable top-tier option for any team until the day he decides to retire.
Show Your Support
Support the Strike 7 Sports platform's growth by heading to Fanatics.com and buying officially licensed gear from the National Football League. Each purchase made through the text link below goes into the funding of the Strike 7 Sports brand. To proceed, click the red text link below and enjoy shopping at Fanatics.