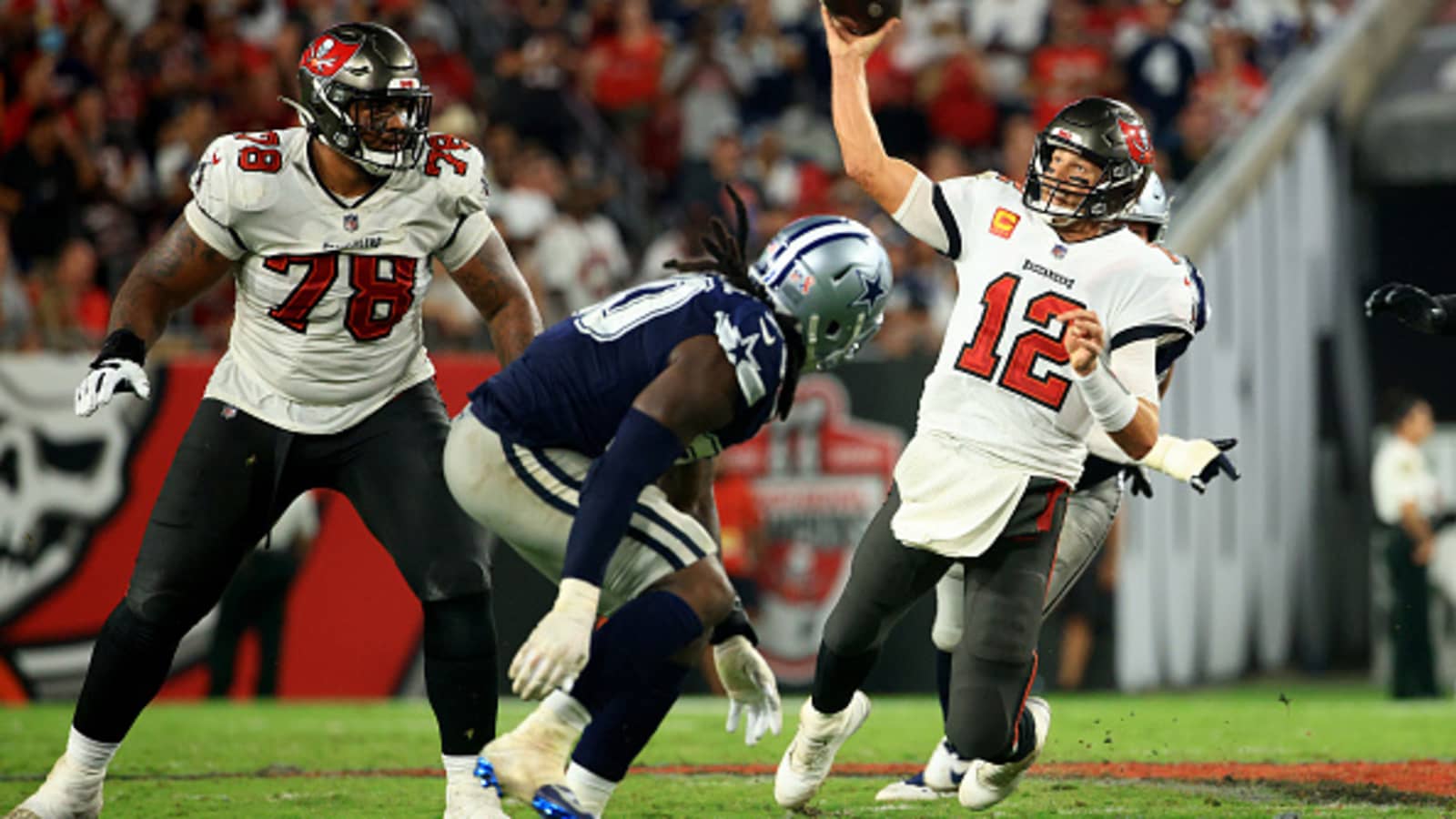 With six weeks gone in the 2021 NFL season, the race for the league's Most Valuable Player has kicked into full gear.
We've followed the storylines all season long – the perennial contenders, the breakout players, and the ones in the midst of a comeback trail. Even some of the non-quarterbacks have made cohesive arguments for consideration. While over half of the season still remains, the shortlist of players with quality cases may as well be a long list, as it's nearly impossible to sort through them. So naturally, I've tried to do just that.
Which five players are in the thick of the MVP race heading into the halfway point of the season?
5. Derrick Henry, Tennessee Titans
Titans running back Derrick Henry is the only non-quarterback on this list. And for good reason.
Henry has almost single-handedly carried (no pun intended) Tennessee to a 5-1 record and the top of the AFC South. After a one-sided loss to the Cardinals in the opening week of the season, the Titans have gone 4-1, including a primetime win over Josh Allen and the Bills – in no small part due to Henry going for at least 113 yards in every one of those games.
In fact, Henry is playing the best football of his career. And considering he was named the 2020 Offensive Player of the Year by the Associated Press, that's saying something. The Titans superstar is averaging over 130 rush yards per game, he's become much more involved in the passing game (just three receptions away from tying his season-high), and he's on pace for *checks notes* 27 rushing touchdowns. Buy stock in Henry's MVP case now before it's too late.
4. Dak Prescott, Dallas Cowboys
Speaking of another player who's playing the best football of his career, Dak Prescott has been superb for the Cowboys despite concerns regarding how he would bounce back from the gruesome leg injury that ended his 2020 season.
Dak came out of the gates on fire a season ago before that injury. This season, he's blowing those numbers out of the water. He's completing his passes at a higher rate, he's thrown almost twice as many touchdowns, and – perhaps most importantly – Dallas is 5-1, compared to the 2-3 record they had when their quarterback got injured a season ago.
In fact, there's only one quarterback in the entire NFL who's in the top five in passing yards, passing touchdowns, and completion percentage. It's the man under center for the Dallas Cowboys.
If he doesn't win the MVP, at least he's a lock for Comeback Player of the Year.
3. Josh Allen, Buffalo Bills
If the Bills were ever going to reach their lofty expectations for this season. Josh Allen would have to deliver.
Josh Allen is delivering.
Bolstered by a group of elite playmakers and one of the best defenses in the NFL, Allen has been leading the charge for a Buffalo team that hopes to get back to the Super Bowl for the first time since 1994. And while the team is fresh off a loss in primetime to the Titans, Allen has still guided the most prolific offense in AFC – and it's not particularly close. In six games, Buffalo has scored 203 points. Second place in Baltimore, which has scored 33 fewer.
Allen is also protecting the ball at an elite rate relative to how often he throws. Despite being eighth in the league in attempted passes, he owns the sixth-best interception rate in the NFL – just 1.3 percent.
Oh, and his 25 touchdowns and 1,700 pass yards don't hurt his cause.
2. Tom Brady, Tampa Bay Buccaneers
Could Tom Brady be getting better in his age-44 season?
Last year's Super Bowl MVP is in the midst of a fantastic sophomore season under Bruce Arians in Tampa Bay, leading the Buccaneers to a 5-1 record and the top of the division. And Brady has done exactly what we expect him to – he leads the league in pass yards, he's tied for the second-fewest interceptions out of any quarterback with over 200 pass attempts (Kirk Cousins), and he's consistently burning opposing secondaries with an unpredictable combination of short throws and deep balls.
It ain't an article about MVP contenders without Touchdown Tom, and he's got Tampa Bay's sights set on its second set of rings in two years. One of the only players that can get in his way is…
1. Kyler Murray, Arizona Cardinals
I wrote an article after Week 3 discussing how Kyler Murray was surprisingly leading the MVP candidates around turn one. That hasn't changed.
Arizona's signal-caller has only gotten better since that piece was posted, and he's the leading reason why the Cardinals are the only undefeated team left standing – and it's been that way since Week 4.
Kyler is dangerous. He's guided the Cardinals offense to over 30 points in five of their six games, including hanging 37 on a stingy Rams defense. His 1,741 pass yards and 14 touchdowns also rank near the top of the league, and his 290 pass yards per game blow his previous career-high out of the water.
Kyler is efficient. He owns the highest completion rate in the league, the third most yards per pass attempt, and he's only thrown four interceptions. It's been his best season as a passer, and it's not close.
And Kyler is dynamic. He's a constant threat with his legs. His three rushing touchdowns are equal to or greater than seven NFL teams and he compliments the run game brilliantly.
Kyler has taken a massive step from Year 2 to Year 3, and it might just be big enough to take him to the MVP award.