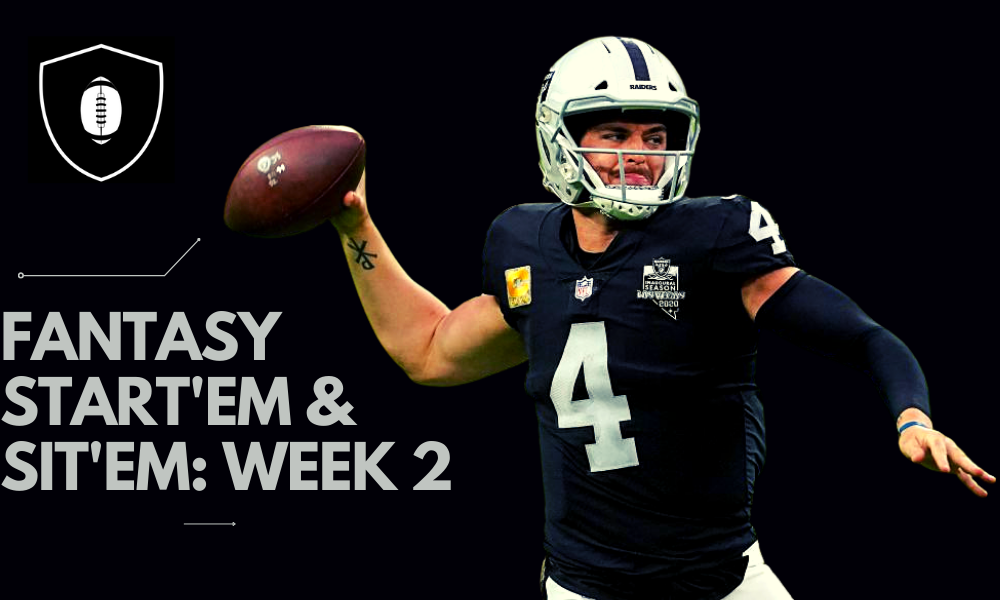 For most fantasy owners' weeks, it went like they thought it should. Apart from Aaron Rogers, Dak Prescott, and to some degree, Tom Brady, most of the quarterbacks performed very well. Patrick Mahomes led the quarterbacks with 35 points, Josh Allen came in second with 34 points, and surprisingly Carson Wentz came in third with 30 points. The second week is already here, and we have compiled a list of the best possible quarterbacks you must start and others you must leave on your bench.
Must Start Quarterbacks For Week 2 Fantasy Football
Josh Allen – Start
No surprises here. Josh Allen nicely spread the ball around in the inaugural game against the Rams' defense, considered one of the best, and took it apart. Allen threw the ball to seven different receivers, and all three of his touchdowns were caught by different receivers. Additionally, Allen was the leading rusher of the entire game with 56 yards on ten carries, and he rushed for a touchdown. If you have Allen on your team, it's a no-brainer that you should start him.
Matthew Stafford – Start
Matthew Stafford underperformed in week 1. He only scored 10.7 fantasy points with only one touchdown and three interceptions. However, in week 2, Stafford and the Rams have a juicy matchup against the Atlanta Falcons, who are known to give up big plays to the opposing quarterbacks. And wide receivers; one good thing we observed in the Bills vs. Rams matchup was that Stafford still managed to connect with Cooper Kupp well. Don't hesitate to start Stafford in Week 2 because we are projecting 21+ fantasy points from the Rams quarterback.
Russell Wilson- Start
Russel Wilson's performance wasn't good in Week 1 against his former team, but it wasn't bad either. Wilson spread the ball evenly and made good throws at tight spots. In Week 2, Wilson will be going against the Texans' defense, who managed to tie the game against the Colts but did give up 352 yards to Matt Ryan. Wilson's performance in Week 1 proved that he had been adjusted to the Broncos offense, and that's why we are making him a 'must-start' of Week 2.
Joe Burrow – Start
Since he was drafted three years ago, Joe Burrow has been marvelous and possibly one of the best deep-ball passers in the league. He is a legitimate tier 2 quarterback, meaning he should be an automatic starter in most leagues. In the second week, the Bengals will be playing against the Cowboys, who just lost Dak Prescott, and their offense will be struggling. The defense played slightly better in Week 1, but the Cowboys' defense tends to give up big plays.
Sit These Quarterbacks In Week 2
Lamar Jackson- Sit
Lamar Jackson only rushed for 17 yards, but he played well as a passer and threw three touchdowns. There wasn't any need for the Ravens' offense to hurry up because the Jets were immediately down from the beginning. In Week 2 Ravens will be playing the Dolphins, who probably have one of the top 10 defenses in the league at the moment. Mac Jones struggled hard against the Dolphins' defense. Now that Jackson is much better than Jones still, it would be wise for you to bench Jackson for Week 2.
Tua Tagovailoa -Sit
Same as Lamar Jackson, Tagovailoa should be benched in this game. He played really well in the first week especially compared to last season. He completed 23 of 33 passes for 270 yards and one touchdown. His rating of 104.1 placed him in the top 10 of the lists. But from a fantasy football perspective, Tagovailoa failed to provide much, and we believe this will continue in the second week. Therefore, he should stay on the bench as well.
Jared Goff- Sit
Jared Goff and the Detroit Lions will be up against the stingy Washington Commanders, who have a great secondary. Goff posted a very reasonable 17 fantasy points in Week 1, but he might struggle in the second week. He might play well in the future, but for now, you should wait. Start someone else or sign a quarterback from free agency, but make sure Goff stays on your bench.
Aaron Rodgers- Sit
Surprise Surprise! Making last year's NFL MVP sit just when we are in the second week? But know that Rodgers was 32nd in quarterback rankings in terms of fantasy points after week 1. Moreover, he looked abysmal, out of practice, and out of his place. Rodgers has been complaining about the lack of good wide receivers during the whole off-season, and maybe that's the reason for his very visible anger. We know that Rodgers will return to his native and proper form in no time, but to be on the safe side, make sure to sit Rodgers from your starting lineup. The Packers will be playing the Bears in Chicago, and they have managed to build a very good defense this off-season. So, keep Rogers on the bench.
Show Your Support
Support the Strike 7 Sports platform's growth by heading to Fanatics.com and buying officially licensed gear from the National Football League. Each purchase made through the text link below goes into the funding of the Strike 7 Sports brand. To proceed, click the link below and enjoy shopping at Fanatics.
Sports Betting
Are you going to place a bet on any sporting events happening today or throughout the week? If so, then you need to check out BetUs. BetUs is the ultimate destination for online betting, sports betting, live betting, racebooks, etc. If you are interested, click on the text link BetUs and you will be redirected to their website. We shall receive compensation if you decide to sign up through our affiliate link below.