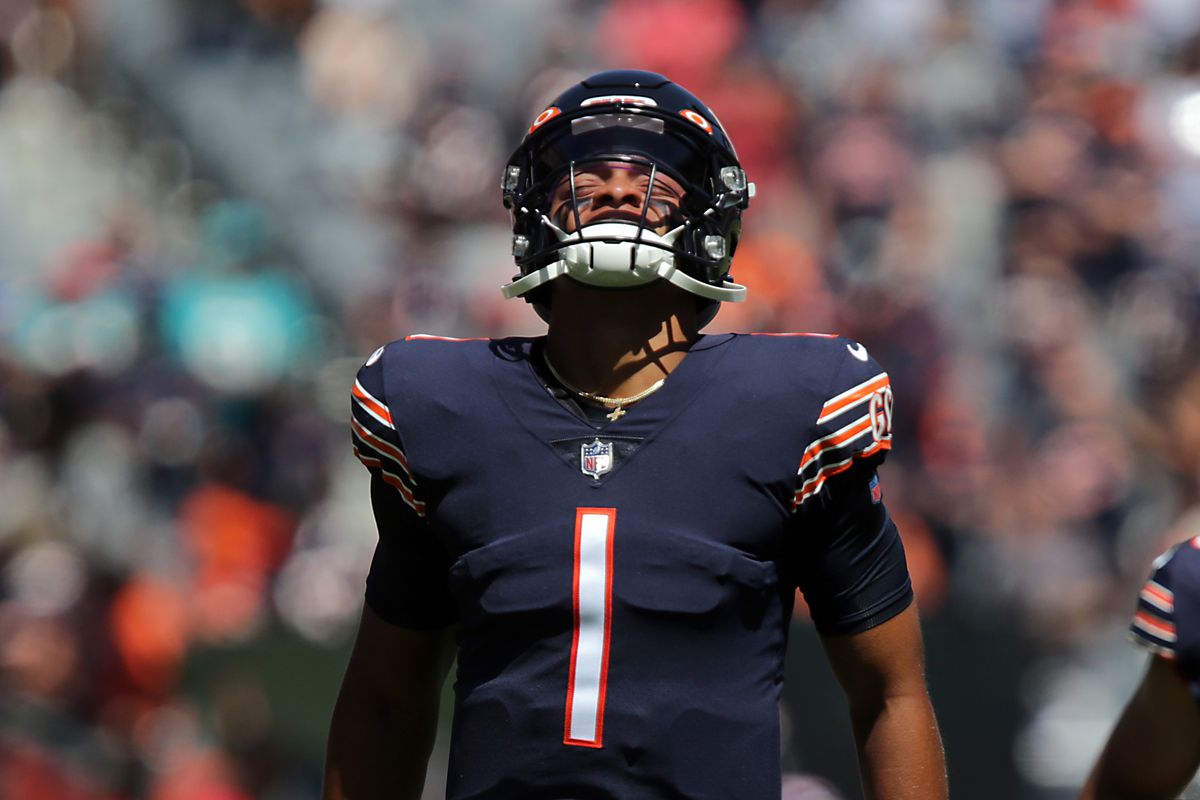 Bears quarterback Justin Field's 2021 rookie campaign was a typical season for a player playing in the National Football League for the first time. There was no fight for a playoff spot nor spectacular numbers put up by the former Ohio State Buckeye. Instead, Fields finished the year near the bottom of the league in every statistical category for an NFL quarterback. He only threw for 1,870 yards, seven touchdowns against ten interceptions.
Fields' shortcomings last season are due to the Bears not having adequate protection on the offensive line and playmakers such as Allen Robinson not being available for most of the season. Fields himself not being up to speed on running an efficient NFL offense. However, despite what occurred last season, Fields is expected to be a quarterback that can be productive at the next level.
Numerous fantasy outlets believe he is projected to have a breakout season as a second-year quarterback in the league. Bears ownership parted ways with head coach Matt Nagy and general manager Ryan Pace after the 2021 season. Nagy closed out his time in Chicago with a 34-33 record, which includes two playoff losses.
After moving on from Nagy and Pace, the Bears hired a new general manager, Ryan Poles, and a new head coach, Matt Eberflus. While it may be perceived that the regime did not go out and surround Fields with personnel to be successful, that's not the case. Instead, Poles have addressed some needs on the roster while not spending much money on many highly-priced free agents.
Instead, he trimmed the Bears' salary cap by releasing or trading a few expensive players. However, if you pay close attention to Chicago's roster on offense, there are a few playmakers that can significantly grow Fields fantasy value for 2022. When the writing was on the wall that Allen Robinson may not return to Chicago, the team made no effort to retain his services. That was mainly due to the emergence of wide receiver Darnell Mooney. With Robinson no longer with the team, Mooney becomes the Bears WR1. In his second year in the league, Mooney recorded his first 1,000-yard season.
He led the team in receiving with 81 receptions, 1,055 yards, and four TDs. But it does not stop with the rise of Mooney in the offense. Tight end Cole Kmet is expected by many to be another viable option for Fields in the passing game. While he did not record a single touchdown in 2021, Kmet finished the season with 60 catches for 612 receiving yards. Along with Mooney and Fields, Kmet is another player projected to have a breakout fantasy season in 2022.
The former Notre Dame tight end finished 20th in the tight end scoring (121.20) in PPR leagues. However, the free-agent piece that the Bears did go out and sign as another passing option for Fields was a wide receiver, Byron Pringle. Pringle comes over from an offense in Kansas City that is regarded as one of the best in the league. In 2021, he posted career highs in receptions (42), receiving yards (568), and touchdowns (5). Pringle will most likely serve as the WR2 opposite of Darnell Mooney. While the Bears' lack of activity to address the offensive side of the football may push fantasy owners away, Fields is a quarterback that can emerge from being a QB16 to a highly coveted QB1.
According to Fantasy Pros, "Fields finished as a top-12 fantasy quarterback in his last four full games in 2021, averaging 21.7 fantasy points per game." He is also a threat in the running game as well. In his rookie season, Fields averaged 35 rushing yards per game. The last QBs to achieve those numbers were Josh Allen, Cam Newton, and Robert Griffin lll. All three players finished in the top 12 fantasy quarterbacks in the second season.